100 Cleansing Recipes
100 Cleansing Recipes is a PDF I created to help those who are on a body cleanse, weight loss or other type of holistic nutrition.
The cleansing recipes are easy and the ingredients are kept to a minimum.  This is to avoid a costly grocery list and to save time.  The herbs and spices used in many of the recipes are mostly from fresh, whole plants, but others may be included.
 If you have never completed a body cleanse, colon cleanse or other "clean eating" type of regimen, the change may seem daunting.  Often recipe books call for a variety of equipment from vegetable spiralers, food dehydrators or even a Vitamix, limiting recipe choices for many.  Some programs require ingredient lists which require numerous herbs - and if you are starting fresh, you may not have many of them handy.  (Herbs alone range from $4-$10 per bottle these days, and organic is more expensive, adding $50 or more to your shopping list!)  This collection of recipes keeps these to a minimum, while still allowing for flavor and variety.  

Often when working with clients, I have found that those fairly new to body cleansing believe their food choices are limited.  Others would feel that recipes normally associated with holistic health programs involve quite a lifestyle change.  That's where these recipes come in handy; these recipes are not extreme, satisfy tastebuds (even for those new to clean eating) and help you stay on track.   The categories include beef and poultry entrees, bean dishes, tempeh dishes, vegetarian dishes, fish entrees and home made, healthy and delicious salad dressings to help spark the imagination and stimulate creativity in the kitchen.  It may even help you think "outside the recipe box" and start creating your own healthy and tasty meals.
How to Use 100 Cleansing Recipes
Breakfast should be simple including fruits, yogurt, smoothies or home made cereals (such as oats or raw granola).  But lunch and dinner can quickly become boring and bland if you don't have a plan.  Use this guide to find uncomplicated, healthy meal choices for every day lunch and dinner meals.  Add a small green salad and you are good to go!
Use the meals in this guide to replace your favorite (and possibly not compatible with cleansing or weight loss) version of foods.  If you have completed a body cleanse program in the past, it may be tough to get started, especially if you feel that your next two to four weeks will be meals of baked chicken and green salad with lemon juice and olive oil.  If this is your first time, it is easy to get stuck in a rut, wondering what to eat every day.  These recipes are healthier versions of foods that many people are used to eating (such as beef or chicken).  I refer to these as transition recipes, because they make it easier for many people to make the transition into their new program.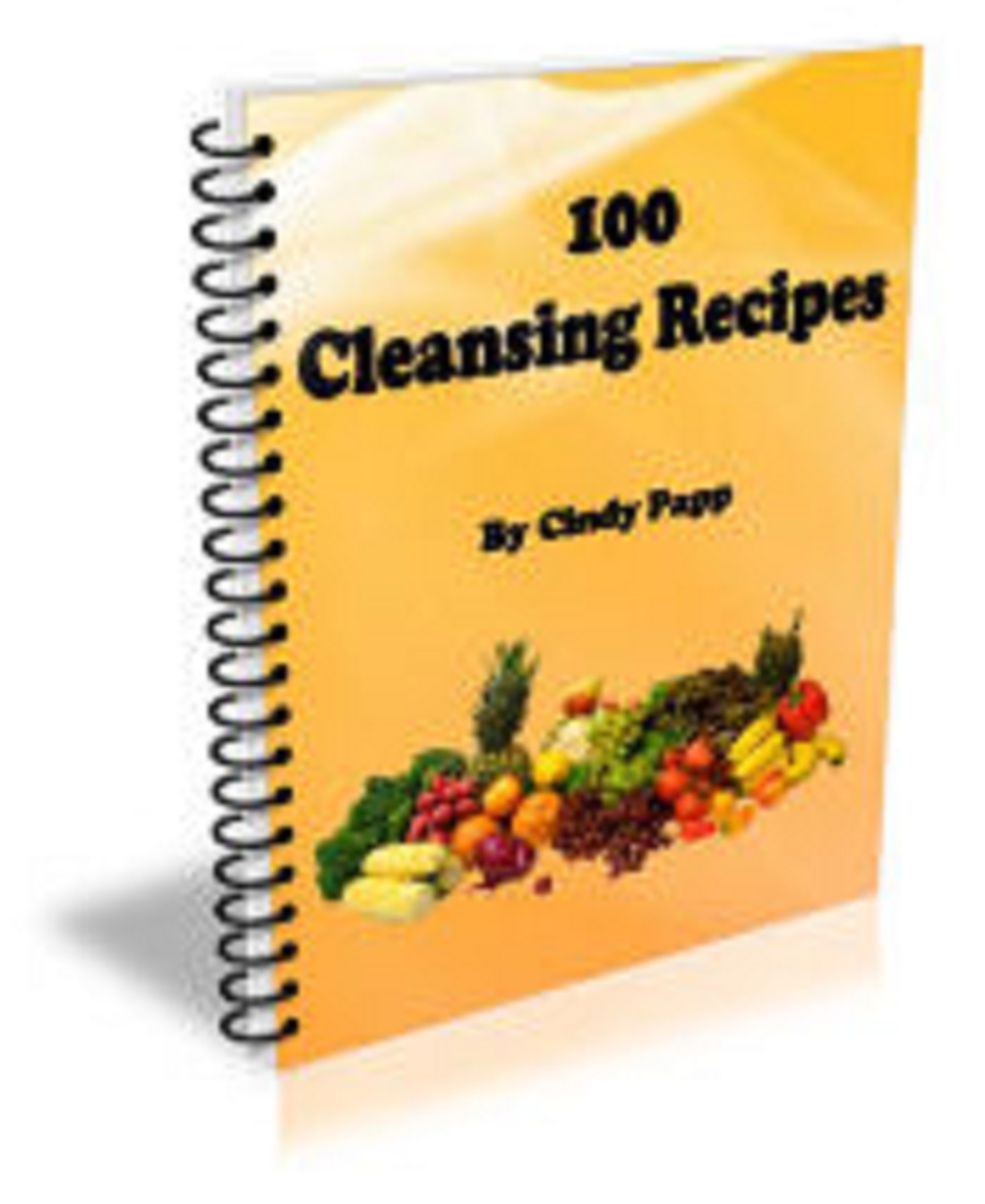 Use this guide to prompt your kitchen creativity.  Sometimes we just need reminders of what to have for dinner.  In these days with modern busy lifestyles being the norm, it is easy to be tempted to eat take out food.  These can be laden with hidden sodium, unhealthy fats and other substances that can sabotage any program or healthy eating lifestyle.  This recipe book can be a helpful resource to keep handy and find recipes when you're at a loss as to what for make for dinner.
100 Cleansing Recipes - Coming Soon
100 Cleansing Recipes will be available on Amazon soon as a Kindle book, for $1.99.  Sign up for the newsletter to receive notice when it is available , or watch this site or my Facebook page for updates.

---
Disclaimer:  The information on this site as well as any products discussed, displayed or advertised is not intended to diagnose, treat, cure, mitigate or prevent any disease.  These statements are the personal belief of the author and these statements have not been evaluated by the Food and Drug Administration.  The information posted on this website is published for informational purposes only.  This information should not in any way be used as a substitute for the advice of a physician or other licensed health care practitioner.