#4 - Date Treats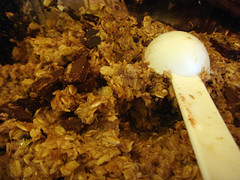 Although not normally part of a cleansing regimen, I included these this issue in tribute to dates being the Food Medicine for this issue. I have used this recipe in the early stages of my cleanse to satisfy my immense sweet tooth. There is no refined sugar, and no processed foods in it.
Later on I started using this recipe to make treats for my children as an alternative to traditional cookies. These date treats are very high in protein, vitamins, minerals and healthy fats - excellent for children's growth and good for our nutrient count, as well. Watch out if you're trying to lose weight, however. The calorie count is also high...
Blend together in a food processor:
1/2 pound of fresh, raw, pitted, Dates
1 cup of fresh, raw, organic Almonds
1/2 cup of fresh Coconut
2 Tablespoons of water
A small spoon (or squeeze) of honey to make it sticky and hold together if needed.
Process all the ingredients without the honey until it forms a paste. Check to see if you can make a ball that will hold together. If needed, add the honey and process again.
Form balls. Roll these in either real cocoa/stevia combination, or in fresh coconut. Set the balls on wax paper on a plate and refrigerate for at least an hour.



Go to Recipe Archives

Holiday Fun

Go to Home Page from date treats