Could You Use Extra Income?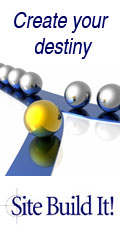 Now is the time! Times are difficult for everyone and we all could use an extra income. A website is an excellent way to make this happen. We all know about something, and having your own website is one of the best and most cost effective businesses that you can start to get your message out to the world. But how do you make money and get that extra income?
First of all – building a website is building a business and should be treated as such. It doesn't come easy and will take some learning, work and time. And if you put in your effort, you will get your rewards because your website will not be limited to just the area you live in. When done right – your message will go overseas. (I have readers from at least 20 different countries!)
There are many ways to make money from your website business. How you will make money will depend on your site. You can work hard and attempt to make it your full time pay or work part time for an extra income. Here are some of the different ways – see which might work for you.
You may have books or other programs you enjoy so much you want to share them. In that case you can become an "affiliate" and collect an income as you sell your favorite items. Perhaps you enjoy direct sales (like supplements or body care products). You can set up a website to sell these directly to your readers. You could also create your own book and self-publish it or sell advertising like Google Adsense, which is free to sign up with. The ways are many and only limited by your imagination.
Many websites use a combination of income generators. But there is one thing that most successful websites have, and that is information. People surf the internet for free info – and when they find what they like, they return. Just like in a land business, you build relationships, so communication is key.
Since the Internet has billions of surfers, there is room for all websites. To make your site compete, you must find "your voice," or your unique way of getting a message out. For the cost of starting this type of business and the knowledge you gain, it is a rewarding experience. And these times have proven that we all could use some financial back-up or extra income.
My website didn't come easy. I have never been technologically inclined and learning this hasn't been a cake walk, that's for sure. But I'm happy to share my knowledge and my experiences with others. If you'd like to see how I got started – check out this link. Perhaps you'll be inspired to start your own site.



Member's Area

Home Page from extra income