Health Career Tips to Get You Started
This article is for those interested in holistic health. Sometimes the term, health career, is designated for those pursuing a medical, pharmaceutical, nutritionist or dietitian career. However, these are all in the medical field are therefore "medical careers."
Holistic Health is a true "health career" as the goal of the holistic health practitioner is to create health in the client - not to treat symptoms of a disease.
Finding a job in holistic health is not that easy. In fact, although in great demand, there just aren't many places hiring nutritional consultants or acupuncturists. But there is a strategy you can use to get your own health career going. Tip 1 - First get your training in the area you are most interested in or try to land a job in a holistic office, or both. If you are passionate about a certain area like massage or acupuncture, go with it. You could also call around to find out what the local holistic health offices need and train for that.
For example, to start my health career, I first worked as a receptionist to learn about the holistic business in general. As I worked I was able to take classes in areas of interest - massage therapy, colonic therapy and nutrition.
Since I was working in health office, it was not too hard to find clients to train with. If you don't have this option then do some cheap advertising to find clients to train with. Many people will welcome a free massage - even if you are training. In other cases, such as colonic therapy, you might need to find another person training so you can work on each other.
Tip 2- Learning a specialty such as herbs and nutrition, colon therapy, or lymphatic drainage can help you build a clientele easier than trying to work as a general Nutritional Counselor. In this economy, not many people may be willing to pay for this when so much information can be easily found through books and such.
Tip 3 - Gain experience by working in an office. Whether before, during or after your training, try to find a job in an already existing office. This will help you gain true insight and knowledge of how the holistic industry works in your community.
If it proves hard to find a holistic office that is hiring, then a very normal course of action is to find out the laws in your area and start your own business by renting a room in an already existing office. This is less expensive and helps you start building a clientele. It also helps to expose you to clients that may be interested in your type of service.
You can expect to pay up to 50% of your earning to the office or in some cases a straight monthly fee for a private room. When considering how much you are willing to pay, ask if they will supply supplies (towels, sheets, cleaners), do they advertise, and so on. If they are paying money for this, expect to pay a little more - and it will probably be worth it. These expenses can add up for a beginner - especially advertising!
Tip 4 - To give you a general outline and guide, Here's how I started:
I started out as a receptionist in an office while I was training in colon therapy, nutrition and massage therapy.
I then moved up from being a receptionist and started working as a therapist doing colonics, lymphatic drainage and reflexology (getting paid per client, not per hour).
During this time I took more classes in nutritional counseling. This experience started pulling everything together - academic plus hands-on training equals the beginning of experience.
Eventually I rented a room in an office and built my own clientele
From there I moved to my own office where I mainly taught people about colon and body cleansing - which turned out to be my specialty.
I sold that business and now work mainly on-line.
You must have some kind of business training. I learned business through various classes, working as a receptionist, then helped with advertising and general bookkeeping and then managing the office I worked in. I had to use all of these same principles when I first rented my own office.
Do not underestimate visualization and meditation. This truly helped me through the rollercoaster of working for myself.
Tip 5 - Learn Computers! - It is the present and the future. The trend is that almost everything is being done online from telecommuting to sales to promoting professionals and their businesses. You will get left behind if you do not learn to be savvy on computers now.
Many people do the same things; nutrition, herbs, massage, lymphatic drainage, acupuncture, etc. But each person's health career will have a specialty, for example some prefer mainly homeopathy while others prefer mainly juicing nutrition.
Once you start training, you will find your area that you are most interested in - your area of expertise.
The SpringClean Colon Cleanse ebook is a great learning tool to learn a solid foundation for true health for any holistic health career. I have taught this technique to not only other therapists and nutritional counselors, but to medical doctors and nurses alike. For one low price, you get 4 books including; The Cleansing Manual, How to do This Cleanse, My Collection of Health and Cleansing Articles and 100 Cleansing Recipes.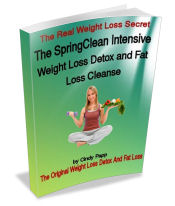 Return to health professionals

Put Your Nutrition Education to Work

Start Your Health Biz From Home

Turn Your Knowledge into Cash

Home from start your health career