Unwanted Weight Gain
Could it be my meds?
Colon cleansing can help us prevent unwanted weight gain. Here is why colon cleanse can help; your whole body works as one unit – so when one area is cleansing, the entire body will have to. Keep this in mind as you read this article…
Many people will often blame weight gain on diet, hormones and genetics. But if you're taking prescription medications, you might reconsider the culprit.
According to George Blackburn, MD and associate director of the Harvard Medical School Division of Nutrition, one in four people taking medications can blame their excess weight on their prescriptions. Weight gain as a side-effect of medications has become such a problem that Blackburn now teaches a course for physicians on how to deal with the issue.
The drugs can cause weight gain by altering your hormones and slowing your metabolism. The problem is intensified with long-term use. These drugs in question range from antidepressants, antihistamines, steroids, birth control meds, to sleep aids and migraine medications.

I have told clients for years that medications as well as other toxins can build up and get stored in our bodies. This is because (in part) our bodies have a gene that recognizes a natural toxin (from the earth or created internally), such as alcohol. The body can convert alcohol to water and eliminate it. However, there is no gene coded for man-made toxins.
It is only natural that if the body can't recognize a drug, it may not be able to deal with it properly by neutralizing and eliminating it. Add to that fact that these toxins are taken on a daily basis - so the problem is compounded. Even if the body could detoxify the toxin in question, it wouldn't have a chance when bombarded on a daily basis.
This is my personal opinion why all of us should take charge of our individual health. Our bodies are stronger than many realize. When given the proper circumstances such as high-quality nutrition and support with the cleansing process, it can heal itself of many things.
Of course if you are taking medications, you should talk to your doctor about the weight-gain issue and how to deal with it. And you must always check with your doctor about taking any herbal or nutritional supplements while on any prescription drugs. At the same time, you can eat healthy and learn to take care of your body.
A colon cleanse is a great start to helping your body cleanse and detoxify itself. Learn how to properly cleanse by applying the correct supplements, nutrition and bodywork. You may be amazed at how strong your body really is!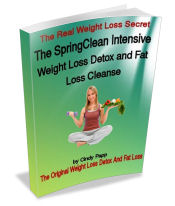 ---

Stay in Touch and Stay Healthy - Sign up for the Free SCC Newsletter . You will receive a password that gives you access to a member's area with exclusive articles, special offers and free downloads just for our Springclean health and cleansing community.Benefits of signing up include:

It is totally free
We will never sell or give away your email address
Password access to exclusive pages and articles written just for you
Free and special offers
There is no obligation - you can opt-out and any time
Return to Healthy Weight Loss Page

Return from Weight Gain to Home Page