Cleansing Carrot Salad
This delicious cleansing carrot salad is quick and easy to make and highly nutritious.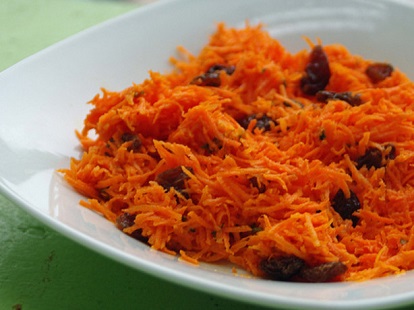 Use this cleansing carrot salad as a stand-alone meal.  This is especially helpful during the last week or two of a body cleanse or colon cleanse,  as it makes a filling and easy lunch.   It can also be eaten as a side salad to any other meal.  Either way, the fresh, raw vegetables can help kick-start your metabolism to ensure your body and digestive tract is efficient, helping you feel lighter and energetic during your day.
The combination of fresh carrots, olive oil and lemon juice make it a perfect liver cleanser.  The lemon gives is a refreshing taste and makes a nice balance to the sweetness of the carrots and raisins.  This combo can also be used to entice your children to eat their veggies, or can be put on top of greens; just add extra olive oil and lemon juice to cover your whole salad.
Raisins are a nutritious and filling treat.  A once cup serving provides a generous amount of Vitamin C, calcium and iron.  They are pack a protein punch providing nearly 4 1/2 grams of protein per one cup serving.
Grate 1-3 carrots, depending how hungry you are. Toss with lemon juice, about 2 TBS olive oil and some raisins. It tastes like dessert because when freshly grated, the carrot is naturally sweet and moist!
Cleansing Carrot Salad Recipe
Ingredients:
1-2 Peeled, Organic Carrots
Juice from 1/4-1/2 of a fresh Lemon
1/2-1 Cup Organic Raisins
1-3 Tbsp Olive Oil
1. Shred the carrots into a bowl.  (I use a Salad Shooter, because it makes grating carrots, beets, cauliflower and even nuts easy - especially good for your daily raw salad.)
2. Add the lemon juice, olive oil and raisins and toss
3. Enjoy your salad!