Lemon Chicken with Parsnips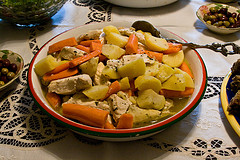 You can also grill or broil this delicious chicken recipe and cook the parsnips on the side. Don't forget the greens!




1 ½ pounds of skinless chicken breast
1/2 Cup fresh lemon juice
2 Tablespoons Apple Cider Vinegar
3 teaspoons Tarragon
1/2 teaspoon each of Sea salt and pepper
1/2 cup of Organic Chicken Stock or Broth
2 Cups of peeled and cut parsnips and carrots
Wash and dry chicken breasts
Mix lemon juice, vinegar, tarragon, salt and pepper
Put chicken and marinade mixture in a plastic baggie or container then marinade in refrigerate for at least 20 minutes
Coat a glass baking dish with olive oil
Place cut parsnips and carrots on bottom of dish and lay chicken on top
pour chicken stock around the edges to flavor parsnips
Bake covered at 350 degrees for about 30 minutes then uncover and finish baking until done (about another 20-30 minutes)
Get 100 Cleansing Recipes as a bonus e-book when you buy my Cleansing Manual. For only $24.95 you get 3 books for the price of 1 including 1) The Cleansing Manual, 2) How to do This Cleanse, and 3) 100 Cleansing Recipes. Start your year right!