Rosemary Wine Turkey Recipe
This Rosemary Wine Turkey recipe is inspired by my husband, who love poultry with the rosemary herb.  It adds a tangy twist to the traditional recipes, while still helping you cook the perfect, juicy turkey.
The trick?  Cook your turkey "breast side down" to allow the juices to settle into the breast (which can be dry if not done right!).
Most people prefer the stuffing to cook inside the bird so more juice drips into the stuffing, adding a nice flavor without getting over cooked or dried out.  But this isn't necessary!
Cooking the stuffing outside the bird helps the turkey cook quicker and more evenly.  Using a meat thermometer to ensure the middle is cooked properly takes the guess work out and puts the safety in your holiday meal.
If you've never cooked a turkey before - be sure to remove the giblets, which are often in a plastic bagged already stuffed into the turkey.  These are various parts such as the neck and organs that people use to make gravies and other sides dishes. 
You can also use this delicious turkey recipe to make smaller portions, and enjoy rosemary wine turkey breast for a healthy, weekday dinner.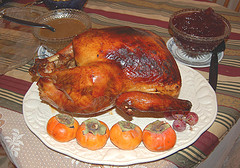 Ingredients:
1 Whole Turkey
3 stalks of Celery, cut into sticks
1 Onion, quartered
1 Cup Rose Wine
½ Cup Butter (melted)
¼ Cup Orange Juice
1 T fresh Lemon Juice
1 T Rosemary
1 teaspoon sea salt
½ teaspoon pepper
½ teaspoon paprika
½ teaspoon onion powder
Directions:
Remove giblets and rinse turkey in cold water and pat dry
Place turkey breast side down in a glass baking dish
Place onion and celery around turkey
Mix wine, butter, orange juice, and seasonings and pour mixture over turkey
Usually when purchasing a turkey, cooking instructions may be included.  These may included nuances such as to leave or untie the drumstick rope or how long to cook.  If not or if you're uncertain, the following step is a basic rule for cooking an entire turkey.
Bake covered at 350 degrees Farenheit until done (around 20 minutes per pound or internal temp of 185 in thigh and 160 degrees Farenheit in stuffing and breast)
For crispy skin and a browned look, turn the turkey over, uncover and cook for about 15 more minutes or until skin looks done.
Allow the turkey to "rest" outside of oven for 15 minutes before carving to allow the juices to settle and stay in the poultry.
Don't for tot baste with pan mixture frequently during cooking. 
---
---