Healthier Walnut Cranberry Holiday Stuffing
Enjoy your stuffing and stay healthy, too, with this walnut, cranberry stuffing that even the kids will love.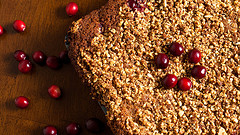 Ingredients;
whole-wheat bread, toasted and cut into cubes
1 Tbsp olive oil
1 onion, diced finely
1 cup chopped celery
1 green apple, peeled and diced
1/2 cup chopped walnuts
½ cup chopped fresh cranberries
1/2 cup minced fresh parsley
1/8 tsp. nutmeg
1 tsp. dried tarragon
1-1/2 cups organic chicken broth
sea salt (optional)
Directions;
Preheat the oven to 350 F. Lightly coat a 2-quart baking dish with olive oil.
Saute celery and onion in organic chicken broth until the vegetables are tender (around 5 minutes) then remove from heat.
In a large bowl, combine the bread cubes, parsley, tarragon, nutmeg, cranberries, chopped apples and a dash of sea salt (optional). Add the onion and celery mixture and mix together.
Bake covered for 20 minutes, then uncover and bake 10 more minutes.
Stuffing is usually baked inside the turkey for a holiday meal, adding more flavor.  But that's not the only option.  You can bake this stuffing separately, saving calories and fat and leave the other traditional style in the bird for those who prefer it.   If you like the non-stuffed version, you can add extra vegetable or chicken broth, or just water to add moisture or flavor.