Surprisingly Healthy Pecan Pie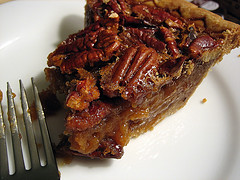 This fun recipe is quite a treat and surprisingly healthy. It is attributed to Supermodel Carol Alt, who credits her still-great looks to a raw food diet.
For those who don't know, an all raw food diet consists mainly of plant foods and nothing cooked over 116 degrees Farenheit. Many people use a raw food diet to look younger, as Demi Moore did when she was preparing for her role for Charlie's Angels.
A raw diet helps your body cleanse, lose fat, aid or reset digestion and provide plenty of life-giving enzymes that are the basis of life and healthy cells. Enjoy!
Ingredients:
2 cups raw almonds, germinated
35 pitted dates, soaked for 1 hour and drained
1 tablespoon fresh lime juice
1/2 teaspoon ground cinnamon
1/4 teaspoon salt
1/2 teaspoon vanilla extract
2 cups raw pecans, germinated
Cold-pressed extra-virgin olive oil, to grease your pan
Directions

Combine the almonds and 10 of the dates in a food processor, and process until they are coarsely ground and clumping together. Grease the bottom of a 9-inch square brownie pan or a pie plate with a little cold-pressed olive oil to keep the pie from sticking to the plate. Press the almond-and-date mixture evenly into the bottom of brownie pan and up the sides to form a crust. Set aside.
Combine the remaining dates, the fresh lime juice, cinnamon, salt, and vanilla in a blender or small food processor, and process until the mixture has a smooth, uniform consistency. Spread the date filling evenly over the crust. Arrange the raw pecans on top of the date mixture and press lightly.
Enjoy yourself this year and have a safe and fun holiday season!


Check Out My
BEST GIFTS FOR CHRISTMAS 2010
Website