Pumpkin Bisque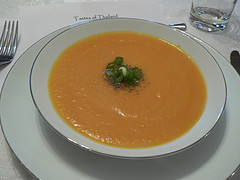 This pumpkin bisque makes a fun harvest treat. The carrots add just enough sweetness while the apples add tartness for an all-around Halloween flavor that you and your family will enjoy.
Ingredients:
4 cups chopped fresh pumpkin (about 3 pounds)
4 carrots, chopped
2 cups organic vegetable or chicken broth
1 small tart apple, peeled and chopped
1 small onion, chopped
1 tablespoons lemon juice
1 teaspoons minced fresh gingerroot
1 garlic cloves, minced
dash of sea salt
DirectionsThere are two ways to start this recipe:A
Steam pumpkin, carrots, apple and onion until tender
Put in a blender with broth, lemon juice, ginger root, cloves and salt and blend until smooth
Transfer to a saucepan and heat through
or
Put all ingredients in a slow cooker and cook until pumpkin is tender (8-10 hours)
Cool a bit then blend it together (process it in batches)
Transfer to a saucepan and heat through
Try serving this delicious soup with a pumpkin seed garnish!