Champion Juicer
The Champion Juicer was the first juicer I used when first introduced to colon cleansing and body detox programs.  I feel that fresh juice, mainly vegetables, should be a staple of any health regimen.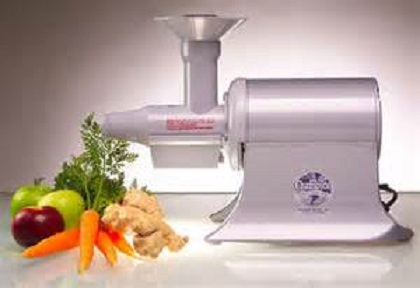 During a colon cleanse or body cleanse, your body kicks in to high gear. Digestion and metabolism start revving as junk and processed foods are lessened and whole foods are being consumed.

Nutritional supplements like fiber, barley grass, wheatgrass or chlorella help your body detoxify and remove buried chemical and metal toxins. These must be transported through your blood, lymph, liver, kidneys and bladder as they are being released from fat cells and body tissue. This may put extra burden on your body's cleansing and detoxification systems.
Built up waste is being broken down as your body starts to work harder to get rid of it. This means more work for your digestion, intestinal tract or entire gut area. More energy used means more energy is needed.  Since vitamin or mineral supplements will not provide the same nutrition as real food, fresh juice made from whole, organic vegetables can fill in the nutritional gap.
Your body can assimilate juice without having to digest it. And it will eliminate what you do not need as far as nutrients, because the nutrients are natural.
The Champion juicer was quick and powerful.   I have used my machine for nearly 20 years now. I have had to replace 2 parts because I lost them - and each only cost me $5.  Recently it did need maintenance, so I sent it back to the factory; total cost of repair was under $50 and it works beautifully, again.
Over the years, I tried other juicers for comparison, hoping to find one that required less cleanup. Common sense had already told me this was not possible - but I had to try.
If you make a commitment to juice, you will find that you make a routine; prep and cleanup become more efficient and takes less time. In addition, as you get healthier, you find more energy to make your daily juice.
Although they were all about the same to clean afterward, I did find unexpected benefits of the Champion...
One can use less vegetables in this juicer than in other juicers because the same amount of carrots would make more juice in the Champion juicer than in the others. In the long-run, this saves money and time.
Over the years, the price of the Champion is only slightly more than what I paid 20 years ago - and a lot less than others. 
Update 2014: My Champion finally had trouble after all these years; it started leaking black fluid from the bottom. I sent it in for repair and the company fixed it, sent me replacement parts and sent it back to me within a week all for an extremely reasonable price. My juicer is almost like new for a fraction of the price that a new one would have cost. I cannot express my gratitude enough for those at Plastaket Manufacturing for taking care of this after all these years.
Some juicers may be more efficient and provide even more high quality juice - but the cost is also much higher.  Some cost from $50 to $1,000 like the Breville BJE820XL Dual Disc Juice Processor
, which is more of a processor that leaves the pulp in your juice to make it more of a smoothie.
This type of juicer is not my preference for cleansing. When pulp is in the juice, your body must digest the pulp to extract many of the nutrients.  I feel that juicing is so effective, especially if one has health issues, because it requires no digestion, leaving more energy for cleansing.
The Champion Juicer is a "masticating" juicer. This means it tears apart the pulp to extract all the nutrients. Your body works less to absorb more - making it the perfect choice for any program.
Disclosure: This site is maintained by commissions made from sales through my website when you purchase through my links. Thank you for visiting and I do appreciate your business.
---
The Beginner's Guide to Cleansing


Stay up to date with the latest articles and special offers;
simply add your email below