The Best
Fat Loss Cleanse Program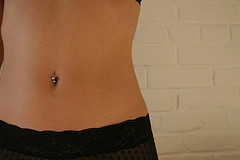 Are you having trouble losing fat or losing excess weight? You are not alone...
Most weight loss diets are hard to follow, but it's not your fault when food cravings feel more like food addictions.
There are real, physical reasons why this is happening and believe me, it is not a willpower issue.
People who have had so much difficulty with weight loss before are finally learning how to overcome and succeed once and for all.
If you are having a hard time losing fat or losing weight, I am here to help you. But first - read this shocking news!

Weight Loss programs make large companies big money and because of this, the market is flooded with drugs, surgeries and weight loss programs. With more and more programs available, shouldn't more people be losing weight? The fact is that people are still getting fatter.
A typical program goes something like this; eat small portions of protein throughout the day, lots of fruits and vegetables, small portions of complex carbs and round it all off with resistance training to build muscle because muscle burns fat. If it's so easy, what's the problem?
The problem is that we need a new solution to address problems that the medical industry ignores. Foods are processed with chemicals and fillers that are more abundant and cheaper than whole, healthy foods. There are more chemicals in our environment than ever before. It is a proven fact that this garbage is stored in your fatty tissue and fat cells and do not leave. So what can you do?
There is a new and controversial way to lose fat. You hear celebrities talk about it all the time. Many fitness gurus know but they won't tell you because they are afraid of being different. They understand that people, especially authorities on any subject don't like change.
How would you like to:
Take control of your cravings


Help your body shed the garbage and fat


Reset your metabolism so your body naturally sheds excess waste (weight!)
This new solution is a weight loss detox and fat loss cleanse. But there is a catch...
One of the biggest lessons people learn is that holistic health, weight loss and fat loss takes work. There are no shortcuts and no magic pills - which is why most diet fads and pills fail. Many questions arise during any cleansing program, diet change or weight loss program.
I first started cleansing to save my life. I had Hep C and after the doctors couldn't help me, I tried a body cleansing and detoxification program. And it worked, but...
Much to my surprise, not only did I heal from this deadly disease, I lost 30 pounds, gained more energy than I ever had, my skin and hair looked better, and I felt and looked younger than ever before.
My first cleansing programs were not fun and games. I encountered many problems, like when junk left my body that was black, rubbery, and smelled like poison, I thought I did something wrong!
I immediately called my friend who was a nurse and told her what had happened. Yes, she said, you have poisoned yourself but not from the cleanse. She proceeded to tell me that is why we were cleansing; this waste had been building up for years and years and that's why I got sick, fat and unhealthy. But that's not all!
I dedicated the next 10 years of my life to studying, researching, and working in the holistic health field. I was determined to spread the word about body cleansing for weight loss and fat loss so people didn't have to go through what I went through.
I eventually wrote The SpringClean Cleanse
, which is my general cleanse program for weight loss, health and clearing waste for everyone from beginners to the experienced.

The SpringClean Cleanse on AMAZON


The SpringClean Cleanse on KINDLE
Recently, I developed a fat loss cleanse, which is more focused and intensive. Here are a few things I have learned and what I will teach you;
The truth about fat and weight loss:

Get Immediate Access to the entire SpringClean Intensive Program for only $14.95
If you have gained weight, you have eaten food that your body could not get rid of. Your body stored the waste, instead. Along with this you consumed toxins that slowed your metabolism and caused your body to store fat.
If you want to get rid of excess weight and fat in a shorter time than it took to accumulate you need to get a serious program and stick to it. If you are serious, read on for a program made to work.
You can lose food cravings for good and learn what real health feels like; more energy, freedom from junk foods, the enjoyment of whole foods and the natural and easy weight loss that comes with getting rid of internal waste.
Fat is a warning signal. Fat that accumulates around your belly and midsection can be an indication that there is too much visceral fat, which surrounds your organs. When fat accumulates around your midsection, your risk for serious and life-threatening diseases are much higher. Get the facts on what to do about it before it's too late.
Unhealthy foods cause your body - and metabolism - to slow down. You can help your body get rid of these toxins so that your entire body can balance itself, naturally. Your body can then naturally melt and clear away the excess fat and weight.
Some environmental toxins can cause damage to your cells, making you look and feel older. Learn the secret that helps your body fix the damage while losing toxins and fat to look younger, thinner and healthier.
My SpringClean Intensive, Weight Loss Detox and Fat Loss Cleanse is now here for those who feel they've tried everything.
As the medical community proves that pharmaceuticals are dangerous for weight loss and more people are leaning toward holistic health, the price for nutritional consultations has gone up immensely.
This is because holistic health and nutrition work when you know how to use it. But you have to learn the real secrets - not what the "diet" community has been trying to push off as health.
I will teach you the same information that Nutritional Consultants charge $1,800 and more for the same information so they can put you on the same program. I want to make these expensive secrets available to everyone.
In fact, my program has more information than the top selling "Fat Loss Secret" ebook for less than half the price.
Testimonial
I had awesome results and felt the best I have in years!! This book illustrates the true fundamentals of what causes weight gain, why weight stays on, how we can and why we should rid ourselves of this excess weight and toxins. This "how to" book gives everyday people a chance to reap the benefits of cleansing and detoxing. Cindy Papp is highly knowledgeable and respected in this field. This "how to" guide offers an easy-to-follow plan. It's like having Cindy right there with you!
Jennifer S., Former therapist at Burke-Williams Spa
Los Angeles, CA
Presently, New Mom in Lewiston, CA
---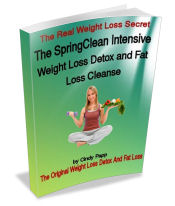 The SpringClean Intensive
Weight Loss Detox and Fat Loss Cleanse Instantly Downloadable Manual is designed to help you learn how to get your body to lose and keep off excess weight and waste that makes fat cells fatter. You'll get:

How To Prepare for Your Program


Personalize Your Program


Initial Weight Loss and Body Prep


Flush the Fat and Waste


Phase 4 Options 1 and 2 Fasting Guide


Ease out of Fasting and Cleansing into Maintenance


Is Animal Protein Healthy?
Vegetable Juice to Help you Lose


Cleanse Recipe Ideas


Bodywork for Your Weight Loss Detox and Fat Loss Cleanse


Detox and Cleansing Symptoms and what to do


And more in this 57 Page, Instantly Downloaded Fat Loss Cleanse Manual. You will learn to flush the unhealthy and unsightly fatty deposits that not only stop you from wearing shorts, but can cause health problems either now or in ten years from now.
---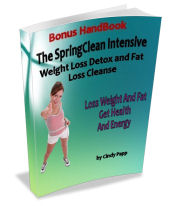 The SpringClean Intensive
Weight Loss Detox and Fat Loss Cleanse Instantly Downloadable Guide
Some Chapters Include:
What is Fat and Why is it Dangerous?


How does losing toxins make you lose fat?


Motivation to Stay on Track


I Thought it Was Genetics!


Weight Loss, Depression and Mood Swings


Post Cleanse and What to do


Good Bacteria and Probiotics


The Follow-up Flush


Get the insider's principles on cleansing, fat loss and how to put it all together in this 63 page Guide.
---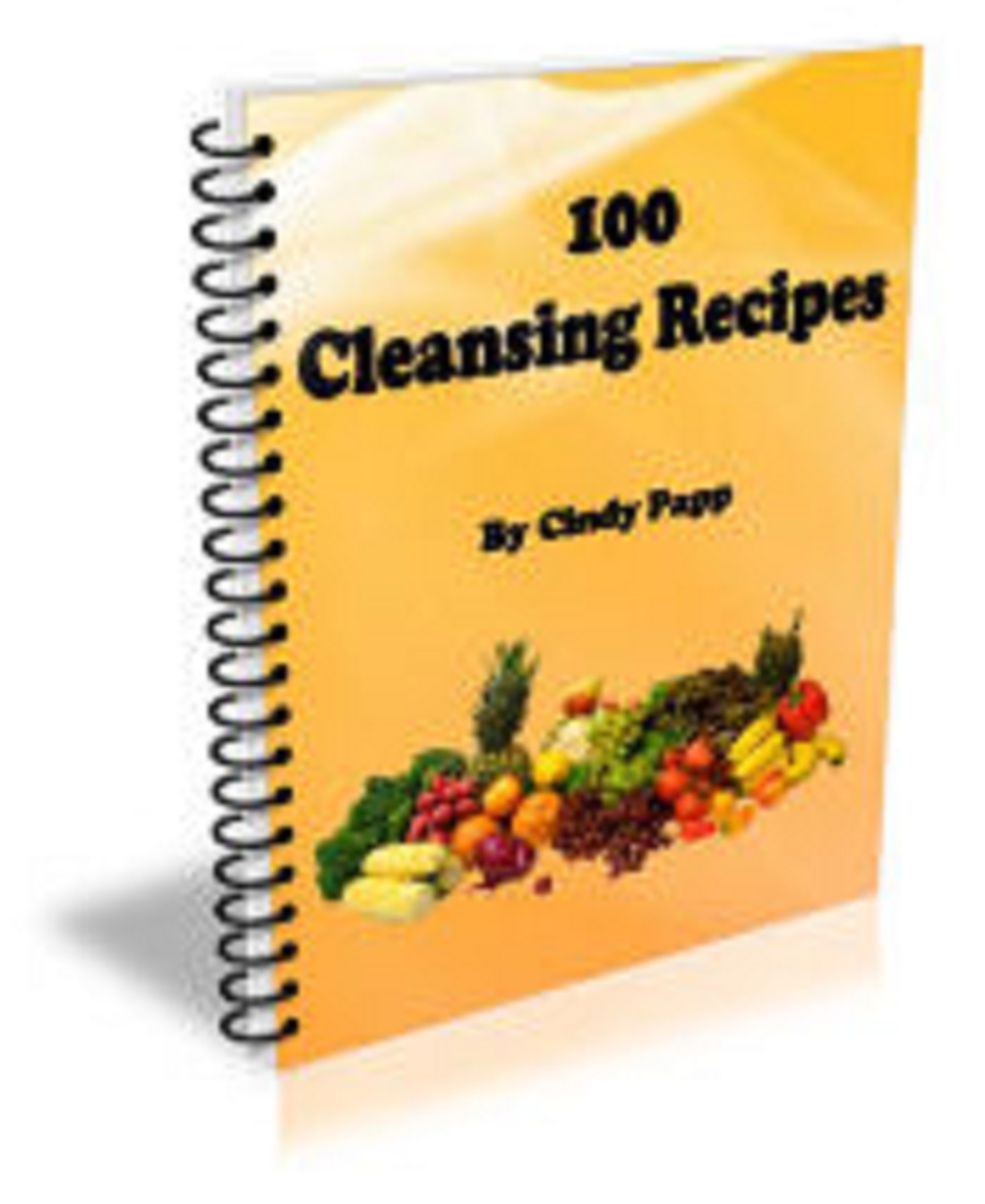 Bonus Instant Download - 100 Cleansing Recipes

Recipes to help you stay on track:

Healthy Cooking Tips


Chicken and Turkey Recipes


Lean Beef Recipes


Vegetarian Main Meals


Fish Dishes


Get the above and more to learn how to make your meal choices less boring and more exciting.
Learn how to create healthy dishes from learning these easy concepts you can use every day.
---
Bonus #2 Instant Download - Vibrant Body
Healthy Fat Loss and Weight Loss Professional Articles
Bonus book of Professional Articles written by me for various health magazines over the years. These articles will give you more insider tips and motivation.
Fat Loss Secrets You Must Read Before You Start Any Fat Loss Program


Help Your Belly go From Fat to Flat With These Amazing Tips


Does Your Willpower Stand in Your Path to Fat Loss?


How to Lose Fat for Life


Get these and more in 35 pages of articles written for people just like you. Get motivated, stay motivated and stay healthy for life.
All this for only $14.95.
Offer may expire at any time.
Order the original book,
The SpringClean Cleanse
on Amazon today!
---
Return to Fat Loss

SpringClean Cleanse Home
---
Stay in Touch and Stay Healthy - sign up for the Free SCC Newsletter . You will receive a password that gives you access to a member's area with exclusive articles, special offers and free downloads just for our Springclean health and cleansing community. Benefits of signing up include:

It is totally free
We will never sell or give away your email address
Password access to exclusive pages and articles written just for you
Free and special offers
There is no obligation - you can opt-out and any time