Fat Loss Tips That Work
Fat Loss tips can be used in your every day life. They may not be a "magic fat loss pill," but the more you know and use, the more you can lose.

Here are some fat loss tips including food, supplements and others steps you can add to your daily regimen to help you lose fat.
Incorporate as many as you can into a daily routine.
Remember to keep moving forward on your program. If you slip and eat the wrong foods - so what. Just keep going forward and eat healthier next time. You may find that some of these tips help curb appetite or motivate you to stay on track.
Start each meal with a fresh, green salad with chopped veggies. Eating the salad first can help you control portions of your main meal.
Drink 6-8 glasses of water each day. This helps your body flush toxins including those stored in and around fatty tissue.
Take your fats! Taking Essential Fatty Acids (known as EFA's, Omega 3's and Omega 6's) can help curb cravings for bad fats, satisfy hunger, are important for brain function and can help your body get rid of excessive, unsightly fat.
Get a series of Endermologie massages - one of the only non-invasive treatments approved to help rid cellulite. It really does work by squeezing toxins out of fatty areas of your body - but you still have to eat right!
Find an appropriate colon cleanse program. The right one, designed for fat loss, can help you overcome the obstacles that stop you from losing fat and losing weight.
More Tips and Programs:

The Real Reason You Can't Lose Weight

The Intensive Fat Loss Cleanse

Back to Fat Loss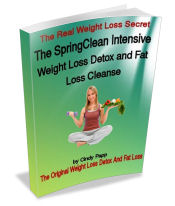 ---
Stay in Touch and Stay Healthy - Sign up for the Free SCC Newsletter . You will receive a password that gives you access to a member's area with exclusive articles, special offers and free downloads just for our Springclean health and cleansing community. Benefits of signing up include:

It is totally free
We will never sell or give away your email address
Password access to exclusive pages and articles written just for you
Free and special offers
There is no obligation - you can opt-out and any time
Return to Fat Loss Tips Home Page
I had awesome results and felt the best I have in years!! This "how to" book gives everyday people a chance to reap the benefits of cleansing and detoxing. Cindy is highly knowledgeable and respected in this field. This "how to" guide offers an easy-to-follow plan. It's like having Cindy right there with you!

Jennifer S., Massage Therapist
---
Thank you for your site, I can tell you are passionate about cleansing and health, and the time you put into this site is greatly appreciated. It has helped me more than you can imagine.

Kaylin J., Los Angeles, CA
---
I was a client of Cindy's when she worked in the Los Angeles area. I am also one of the many people who encouraged her to put her program into writing. It was a worthy investment of my time and money and I believe it will help many others on their quest for health.

Barbara G., Massage Therapist and Nutritional Counselor