Coconut Roasted Sweet Potatoes

Ingredients;

* Virgin Coconut Oil
* Sweet Potatoes
* Lime Juice
* Fresh Ginger, minced (about 1/8 to 1/4 inch, depending on your taste)
* Sea Salt and Pepper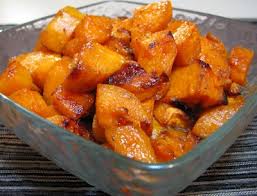 Directions:

1. Preheat oven to 400 degrees, Farenheit
2. Cut as many sweet potatoes as you like into one inch square(ish) chunks
3. Saute these chunks with coconut oil, ginger, a pinch of sea salt and pinch of pepper
4. After ensuring all pieces are covered in mixture and slightly heated, lay a single layer on a baking sheet
5. Bake for about 40 minutes or until they are tender
6. Toss with just a little lime juice and serve
This delicious dish can make a nutritious side dish for you and your family!  Coconut Oil Roasted Sweet Potatoes definitely gets my children excited about a healthy meal and I hope you enjoy it as much as we do!

The SpringClean Cleanse
Home from coconut roasted sweet potatoes
Recipe Archives
Member's Area
Stay up to date with the latest articles and special offers;
simply add your email below